Getting the
cash register to fill on a Saturday at a restaurant is easy. People love going
out and spending
money on the weekend with their loved ones. Same goes for gas stations, liquor
stores and even home improvement places. But what about the doctors office that
closes on early Friday. How about the consultancy that shutters its doors at
5pm on Friday? From auto body shops to gyms and even health care agencies,
making money on the weekend is tough. We've talked to CEO's, business owners
and entrepreneurs looking for business loans across the country and many of
them tell us that getting funding is hard because they can't prove they make
consistent revenue. So we thought we would share a few great ideas about
generating revenue at your business on the weekend.
1. Online
Stores
This one is
kind of a no-brainer. If you have a shot at selling your merchandise online, do
it. Online shopping is a 24-7 opportunity. If you are holding back from doing
this because building an e-commerce shop is too expensive then you need to
absorb the cost and just go for it! Entrepreneur Magazine
put together a great article
on how to build your e-commerce site and make money. "If you plan to sell anything online, having an e-commerce plan is as
important as your original business plan." So get started and make some money online.
2. Trunk Show
Once a month keep the store or shop open and sell stuff in the parking lot that you normally wouldn't sell. Basically a cleaning out of your inventory. Get some tables, throw up a sign and you are good. Obviously a bit harder to the doctor's office looking to get the cash coming in, but in order for that same practitioner to get a
doctor's office business loan
–it may be worth selling a few old chairs that can help with revenue.
3. Consulting
You might be able to use your company's resources, tools and acumen to help someone else out and make some money. Got a hardware store? Let a landscaping company use your materials for the weekend. Got a graphics design studio–assist an agency in a larger project.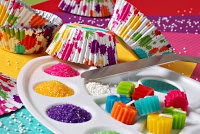 Throw a party to make extra revenue
4. Rent out your space
If you have a gigantic warehouse or even a small room you can make money. Let a trusted organization
borrow your space for a reception
, a seminar or even a company outing. Especially if you have a visually-appealing location, this could really help you make money.
5. Throw a party or event
Having a fundraiser or sales promotion party at your location could make you alot of money, but it will take time and planning. Do some research on finding the best options for
party planning
and you could be on your way to some additional funding.
If you are in the market for a small business loan, please be sure to check out Silver Rock Funding too.