eSports has become a lucrative method of marketing and generating income at small businesses.
Gaming is quickly starting to be one of the most lucrative technology industries. That's because competitive gaming is drawing in tons of participations and audiences. With large payouts and a growing number of spectators, there are a significant number of methods to develop  game playing into a viable business. If you have not heard about eSports, you are certainly missing out. Not only is sports big entertainment, but it seems to be big business. Several well-known figures are putting their money in eSports. From sports superstars like Shaquille O'Neal and Alex Rodriguez to entertainers like  Steve Aoki and Ashton Kutcher, many people are expecting big payoffs from industry.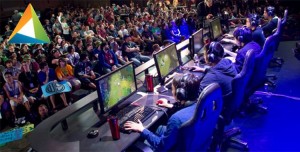 Not only are these individuals buying up teams, but companies are excited too. Corporations such as Coca-Cola and Red Bull have become regular sponsors of eSporting events. What does that mean for your small business? Well, you might get a payoff too.
Joint Sponsorship
Sponsoring an eSporting event, venue, or individual teams are a great opportunity for small business owners. Certain agencies work to match business owners with other companies to sponsor events. If your business needs funding for business marketing, Silver Rock Funding can match you with private investors. Whether you own a hair salon and need beauty salon funding or own a moving company and could use moving company funding, there are myriad funding opportunities to make joint sponsorship for eSports possible.
Restaurants, bars, and movie theaters are also getting involved in a smaller way. Some of these small businesses are finding there is a profit to be made from hosting at their brick and mortars. Viewing parties drive customers to businesses and get them spending money.  Events like this aim to attract local grass roots fans to businesses, as an alternative to spending uber dollars on getting a leg into main events. Plus, game nights can get regular visitors to your business who might arrive for a monthly or even weekly events. If you need the capital to make eSports possible at your business, up to $500,000 is available for you.
Get started on your eSports venture at your small business. Silver Rock Funding has matched small businesses with nearly $3 million this year. We help with any busin
ess expense you might face. Emergency business expenses are great for entrepreneurs who face sudden and unexpected costs. Merchandise funding allows business owners to replace or renew merchandise, new merchandise can be a great idea for your eSports venture too! Complete the free application on your website, right now!