Food trucks started gaining in popularity a few years ago and their success hasn't lost any steam. The food truck business is booming and, if you're a food truck owner, now's the time to invest in growing your business. If you're not a food trucker yet, but want to be, check out one of our earlier blog posts on how to start a food truck business.
There are a lot of reasons the food truck business is a great career path for chefs/cooks… One of the most popular reasons for people to become a "food trucker" is owning a food truck is a fraction of the cost to own and operate than a restaurant. The best part? It's often just as lucrative as a traditional restaurant.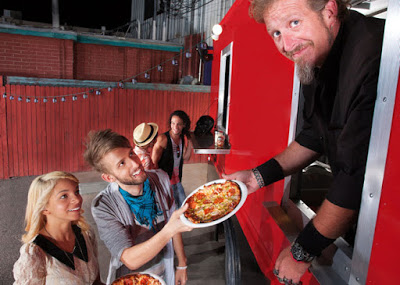 Food trucks do, however, come with their own set of costs; including regular truck maintenance, expensive kitchen equipment and food costs. Probably one of the most imperative costs for a food truck is PR and marketing. Unlike restaurants, food trucks move around, so targeted marketing and PR, and creative social media tactics are essential to develop (and maintain) a loyal customer base.
Today, I'm going to talk about how a small business loan is often a fantastic option for food truck owners to grow their business and take things to the next level.
Financing some of the costs associated with owning a food truck is, as we just mentioned, often a great option…but it can be really hard to figure out what you're qualified for and which option best suits you and your small business needs.
According to RMagazine, "by 2017, food trucks will generate $2.7 billion in revenue." Check out the infographic below for some more stats about the food truck industry's optimistic future."
There might not be a hotter industry right now than food trucks. What better way to take your successful restaurant idea on the road and cut out the huge overhead costs of running a restaurant? As much as it's a more affordable option, it still requires a significant investment of capital and time to keep it running. Getting that cash flow to purchase additional equipment, keep staff paid, add additional trucks – it's expensive. Getting that cash from the bank is a tough proposition in an environment like the one we're in now. Access to capital is restrictive and small business owners aren't able to get the financing they need. In response to increased demand from consumers, Silver Rock Funding can get business owners small business loans from some of the nation's best lending sources.
If you're looking for some inspiration for your food truck business, you should go watch the movie Chef – check out the trailer below. It's a seriously great movie about a chef who leaves a four-star restaurant and starts his own food truck business. Happy food trucking!