Business funding tricks and treats for your small business this Halloween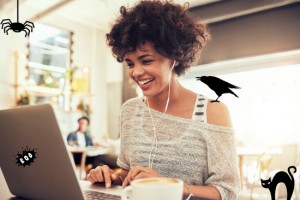 Running a small business can be scary, no matter how long you've been operating. Fears related to running a business are ever-present. The good thing is that there will forever be business funding tricks and treats. That's one of our purposes at Silver Rock Funding: to help small business owners thrive in this ghoulish world. Here are 10 business funding tricks and treats for this Halloween:
#1 – Advanced Speech Recognition
This futuristic business treat comes from our friends at Microsoft. Last week, the company announced that their speech recognition technology was now on the same level as human transcriptionists. Soon after the announcement the company emphasized the significance of this milestone. Noting, in their blog, that there were "broad implications for consumer and business products that can be significantly augmented by speech recognition." No word on how much this technology will cost business owners, but remember funding is always available. If your consulting business would benefit from this new technology, Consultant Loans are available through Silver Rock Funding. Our team of private investors are able to help 99% of industries get funding for advanced speech recognition technology.
#2 – Generate Revenue Through Facebook
This new business funding trick is revolutionary. Does your business sell tickets through eventbrite? Make sells through Grubhub or similar website? Now, Facebook is going to help you cash in free of charge. The social media powerhouse now allows users to do just about anything with out leaving the Facebook app.
Without leaving the Facebook app users can now:
Purchase tickets through services like Eventbrite.
Order food through Delivery.com and other food delivery apps
Make hair or dental appointments through sites like StyleSeat.com and MyTime.com.
Get business recommendations with a map feature.
This means that, free of charge, you can establish leads and generate income through social media. So, if you are a hair salon owner, restaurant owner, or in a variety of other industries this business funding treat can be a major game-changer.
#3- Direct Messages from Customers
Instant customer feedback is becoming increasingly more important for business owners like you. According to a recent survey, 89% of business executives believe that receiving instant feedback is important for business success.
When customers have the chance to reach the businesses that they support in real-time, they are able to constantly share ideas and feedback. Kriddik is an app that allows business owners to receive instant customer feedback. The feedback is verified and private.  Plus customers, who contribute, earn points toward prizes and cash.
Whether you are a  Construction company or a Clothing Boutique owner, there is a lot to gain from hearing discreetly from customers. Satisfied customers translates to improved customer retention. Improved customer retention is ideal for generating more money. That is what it is one of our favorite business funding tricks.
#4 – Expense Management Hack
Expense management is no longer a  luxury for large corporations. A new expense management hack comes in the form of this business funding trick. TravelBank is an app that streamlines the employee expenses.
According to its creators "any employee can sign up and use TravelBank to submit expenses and process their reimbursements by simply taking photos and uploading them with the app. According to Tech Crunch, the app "can predict what an employee should be spending on a business trip, help with the accounting and then give cash rewards if they come under budget." For now the app is still in the works. For now, if your business is struggling to cover expenses for travel, or anything else, Silver Rock Funding has access to millions in private investor capital.
These business funding tricks and treats can help your business through the fall and beyond. Again, if you ever need access to additional business funding tricks, reach out to Silver Rock Funding. Our team of trusted investors can help businesses with up to $500,000. Just complete the free application on our website. Get started today!