It's finally here… farewell rainy days. Hello Sunshine! The Summer is fast approaching. For small business owners, the summer months are not only great for ice cream shops, amusement parks, and lemonade stands. Your small business can thrive during the summer using strong summer marketing ideas. This week we will discuss methods that you can promote your business for the summer months. No matter which strategies that you choose, Silver Rock Funding can connect you with thousands of dollars in money for your efforts.
Barbecue
The Small Business Administration (SBA) gave some great tips to entrepreneurs on taking advantage of the summer months for their small business growth. One idea they had was hosting a cookout. We thought this was an awesome opportunity to connect with the community. Also, collaborating with other local businesses can be beneficial. Purchasing food  and funding space can cost you. We think that this is an investment worth making. Although the SBA recommended using your parking lot or a local park to cut down on costs, if you do not have access to these options, Silver Rock Funding can provide business funding if you need to cover costs of food and sites for your summer marketing ideas.
Seasonal Freebies
Quickbooks also offered some interesting summer marketing ideas.  One of their ideas appeals to the tried and true method of giving away free stuff. People love free stuff. The small business accounting leader suggests providing seasonal freebies with purchases. Entrepreneurs can provide t-shirts, beach towels, or sunscreen. These items don't need to be a part of your inventory. So if you're an insurance salesman, you can give out these items as well. Not only is this a way of showing appreciation, you can also use this for branding. Get your logo added to the items. Silver Rock Funding provides money to fund your summer marketing ideas. So, if you need the money, let us know!
Social Media Contests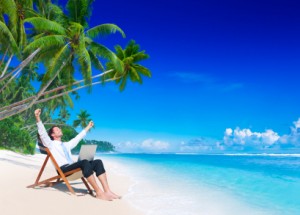 Let your business stand out during the summer months. Photo: DirectCapital
Another great summer marketing idea involves using one of the modern business promotion methods: social media. Many brands have hosted social media contests, from nationwide talkshows to mom and pop small businesses, the power of social networks are great for contests. The business blog Business2Community, offered some ideas for marketing your business this summer using social media. One idea is a photo/video contest. This promotion encourages customers to share photographs from their visit at your business or using your product to social media. This allows their friends to learn more about your business (and perhaps become envious and come for a visit). It's free promotion. Winners are then rewarded with with a prize which could just be a free item from your business or another business.
Get Started
Try one of these summer marketing ideas. Let your business stand out during the summer months. Which one of these ideas are you willing to try? Do you have any additional summer promotional ideas? If you need funding to promote your business or for any other expense, apply for business funds with Silver Rock Funding.