Business funding solutions are available using private investor funding.
The Silver Rock Funding team is committed to working with small business owners in more ways than business funding solutions. We are committed to providing content that helps you to be innovative, knowledgeable, and just great overall. This week we wanted to focus on the importance of accessing business funding solutions for technology. Here are 3 ways that technology can help your business with or without access to business funding solutions:
#1 — Snapchat
Snapchat, the immensely popular image and multimedia app, has a few benefits for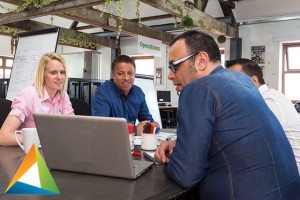 small business owners. Small businesses have been using the app in a variety of ways. Some business owners create urgency by connecting with customers on Snapchat and offering them a coupon in the form of a Snap (24 hour limit) when they answer a call-to-action. Additionally, businesses can share the "in-the-moment" aspects of the day. This helps consumers feel connected with a brand or a business.
#2 — Facebook
You might think that Facebook is old news. Recently, the social networking website announced it had 4 million active advertisers. Facebook advertising is for real and being used by millions. Most of the advertisers are small to mid-size businesses, not large corporations. If you could use funding for advertising, let Silver Rock Funding be your small business funding solution. More than $3 million has been matched this year alone. Extra capital can be used to launch a smart social media campaign or bring in an agency that specializes in digital marketing.
#3 — Tech Hubs
If you are working out of your home, you are like many small business owners. Tech hubs are an emerging trend throughout the U.S. The global network for technology entrepreneurs, TechHub launched a global partnership with Google earlier this year. Microsoft has recently joined the band wagon to help small businesses have a space for operating in their Microsoft stores. According to Michael Mento, business sales specialist at Microsoft, their plan is "to engage with the small business community and to outfit entrepreneurs with the hardware and software tools that get the job done and help them succeed."
Although financing is flexible, business owners might need additional funding to make that leap to having an office outside of the home. Using the business funding solutions available through Silver Rock Funding, you can fund your brick and mortar needs. Up to $500,000 is available if approved.
Is your business in need of business funding solutions? Private investors, who have partnered with Silver Rock Funding, are able to help you along the way. We work with trusted lenders with millions of dollars to help business owners. Get started on a free application with Silver Rock Funding. Approvals typically happen in less than 24 hours. Moreover, funding can be added directly to your business account in as little as 3 days.