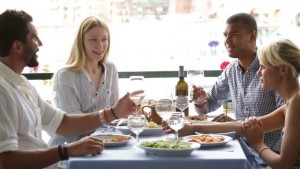 Having a solid promotional campaign can set your restaurant apart during Independence Day and other holidays. This summer you will find some other unique holidays besides the commemorative holiday. Throughout this year we have seen phenomenal marketing campaigns for non-traditional holidays. National Iced Tea Day granted customers free and discounted iced teas.  Krispy Kreme and Dunkin' Donuts offered donuts to customers during National Donut Day. If you need funding to help celebrate these holidays, let Silver Rock Funding assist you. We connect restaurateurs with restaurant business loans. There are many chances to market and grow your business this summer.
Independence Day can be a lucrative holiday for restaurant owners. The kids are out of school for the summer and ready to chow down. Many working Americans have the day off. So, you may have a flux of patrons at your restaurant. Independence Day can sometimes not have a boom of customers. Especially when the holiday falls mid-week. This year the Fourth falls on a Monday, which helps to mark a 3 day weekend. This affords restaurants like yours the chance maybe have a brunch. The breakfast-lunch collars are most popular during weekends and draws heavy crowds who may have slept in on their day-off. You can also use the holiday to do a special menu. Maybe serve American-fare such as hotdogs and burgers, both with your own special recipe. Use social media to get the word out to customers.
The month of July few will be celebrating some not so recognized holidays. You can help to popularize these holidays with promotions at your restaurant. July is National Blueberries Month, mark the holiday with desserts such as a blueberry cheesecake or adult beverages like a blueberry martini. July 28th is National Chili Dog Day. Use this holiday as a chance to host a chili dog eating contest!  Remember restaurant business loans are available for all your summer promotional, inventory, merchandise, and equipment needs. Here is a list of other restaurant related holidays for your business to celebrate this summer.
Get the word out about the promotions you are having and make additional purchases for the promotions using restaurant business loans.  If you need to purchase a new oven or buy seasonal decor, a restaurant business loan can be useful. At Silver Rock Funding, we work with dozens of lenders with millions of dollars to lend. We have assisted many restaurant owners, leading us to be featured in an e-book that discusses restaurant funding. Our approvals are fast, most happen within 24 hours. Money can be added to your account in 72 hours. Let Silver Rock Funding assist you. Complete your free application, today.