The holiday season offers numerous opportunities for small businesses to make a difference.
This holiday season your business has the chance to do more than just bring in new shoppers, you can make a difference. Here are some ways that your business can help the community throughout this season: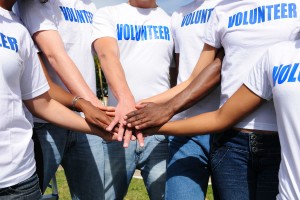 Donation Drives
Organizing a donation drive is practical and easily gets your customers involved in your community efforts this holiday season. Samantha Kresz, community marketing coordinator at GreenDrop, on the GreenDrop Official Blog stresses that there are a number of other benefits to donation drives this holiday season. Here's what she told Small:
Donations are tax-deductible: When you donate to many organizations, you get a tax-receipt.
Help the environment: Donating items you no longer need keeps them from ending up in a landfill.
Keep your home (and office) organized: Donating helps clear the clutter from your life!
Help victims of disasters: Donated items are converted into funds that help in disaster relief.
Be a Change-maker
If you are a business owner, there are many charities that you can assist this holiday season and beyond. From soup kitchens to coat drives: use the power that you have to mark your footprint in the community. From a toy drive with donations from customers to donating your truck for toy deliveries, it is possible to use the resources that you have. You do not have to only assist people with funding, you can offer services to the community. You can help youth learn to read, tutor at-risk youth, or feed the homeless. The holiday season presents many opportunities to help individuals in need.
As a small business owner who wants to be a change-maker, Silver Rock Funding is able to assist you. We work with dozens of lenders with millions to lend. That means we have up to $500,000 in private investor capital to help fund the change in your community. Simply, complete the application. Our funding managers will contact you quickly. They will discuss which plans work best for you and your business. Get started now.
Group Efforts
Lowes has an exceptional program in place to honor employees and allow them to dedicate time to helping their communities through the holiday season and beyond. Recently, the retail and hoe appliance company honored a group of employees from their Conway, SC location.
The Conway Women's Shelter provides shelter and counseling services from women who are victims of abuse and their children. The group of Lowe's employee volunteers performed a number of needed repairs. They developed a plan to update the laundry and supply rooms at the shelter.
According to Lowe's "the team repainted the room, replaced the damaged sink, added new cabinets and replaced the old washers and dryers with front-loaders." Additionally, the North Carolina-based corporation donated cleaning supplies and vacuums for general cleaning purposes.